25 pages within the main A4 book, which show you the common features of English and the language you are learning

12 one-hour audio CDs with three versions of the story.
3. Text Book

The large-format text book presents the text in a unique way which helps you understand the new language immediately.
4. Memory Maps

Each act of the drama is represented as a pictorial "memory map" to further embed the new language.

The language you learn through the radio drama is "activated" with games, puzzles and activities.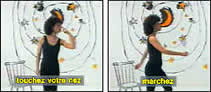 This bonus stand-alone DVD teaches you vocabulary for parts of the body, objects and actions in a physical way.