Learning HOW to learn for 11-14 year-olds
CHAMPS is a unique, fun online program that teaches students how to learn more effectively and retain more of what they have learned.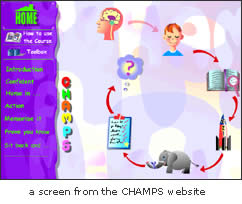 Fascinating recent discoveries about the brain and how people learn have led to the recognition that each student has a way of learning which suits them best – a preferred learning style.
If students can be helped to recognise that preference – and acquire the techniques that best match their own learning style – they become better and more confident learners.
Devised and written by Colin Rose, CHAMPS breaks down the learning process into 6 sections:
C– Confident to learn
H – Home in on the facts
A – Activate knowledge
M – Commit to Memory
P – Prove you know
S – Sit back and think about what you learned
CHAMPS provides dozens of proven techniques for motivation, goal setting, concentration, understanding, note-taking, memorising, stylish writing and revising – plus successful exam strategies.
The techniques include:
successful exam taking
memory strategies
time management
clear, well planned writing
goal setting
successful revision strategies
more effective concentration
regular self testing
speed reading
improved comprehension
making easy-to-remember notes
Schools that have researched the impact of teaching students how to learn report that students become more confident and motivated, less stressed and SAT scores and GCSE examination results improved significantly.
The CHAMPS program has been used in over one thousand schools across the UK, and is endorsed by the Campaign for Learning.
Go to www.learntolearn.org to find out more about the online course. Or order the CHAMPS CD-ROM or printed hardback book here.
---
Online single-user access
just £12.95
Go to online site to register www.learntolearn.org
---
BUY
CHAMPS 2-user CD-ROM
Colin Rose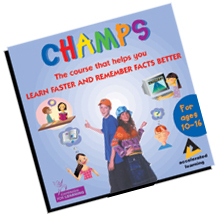 £14.95
CD-ROM for up to 2 users (PC computer)
---
BUY
Learning CHAMPS
Colin Rose
£7.99
---